8 Apr 2020
NEWS | Back us by joining Dons4Life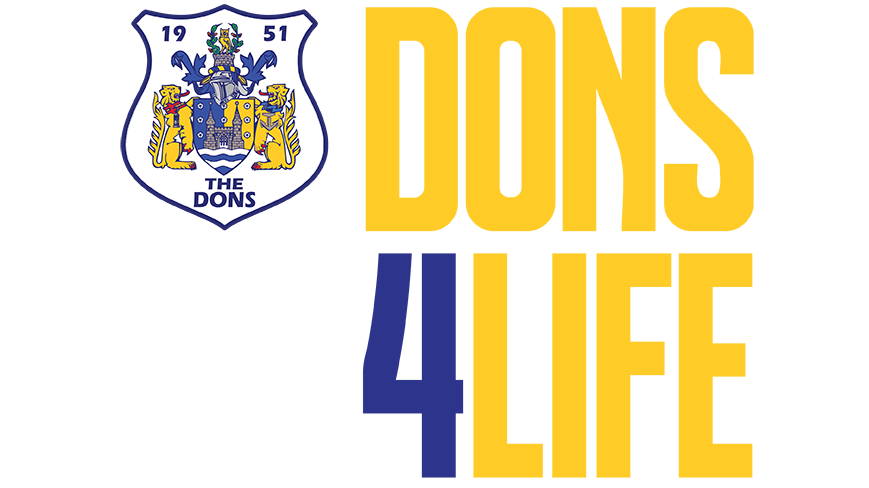 Dons4Life provides a great way to help the club and win exclusive prizes.
We know this is a worrying time for all of us and we hope you are all keeping safe.
With no fixtures, we cannot pretend there are not real challenges to our rugby club but we are all working very hard and we are determined we will come through and continue to be an amazing community-focused club.
Dons chief executive Carl Hall said: "I want to take this opportunity to thank all of our supporters for the messages of support and while we know many of you will have your own concerns over the health of loved ones and perhaps your own finances, many of you were wanting to know how you can continue to support the club during this time and assist the clubs cash flow.
"In times like this any support you can give the club is immense and much appreciated. By joining Dons4Life you have a real opportunity to make a monthly investment (of your choice) into a support fund for the club."

Every penny that our committed Dons4Life members invest goes into a separate account (to that of the playing budget) towards the club's future.

Whether it be £5, £50 or even £500 per month that you invest, every single penny helps support the club. You choose how much you want to invest each month.

SO WHAT DO YOU GET IN RETURN
A bi-monthly draw for an exclusive Dons prize.
Our end of season draw to win a signed Dons match worn shirt
Offers and discounts throughout the season
An end of season update on the Dons4Life expenditure over the season
The opportunity to become part of the Dons future.

HOW DO YOU SIGN UP?
Call Carl on 01302 765888 or download the application form here, complete in full and email back to carl.hall@clubdoncaster.co.uk